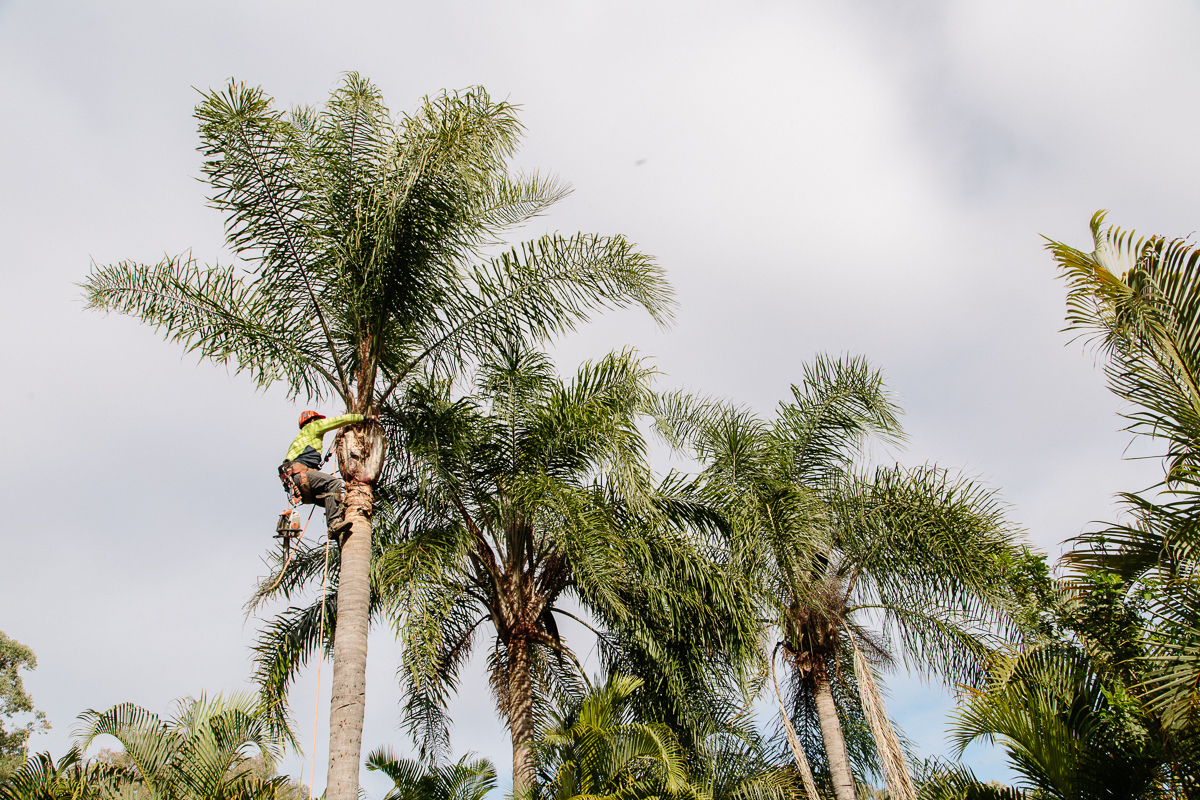 Palm Tree Services Brisbane
Palm tree services Brisbane. Palm trees look beautiful and they certainly give your garden the feel of a tropical island. They also provide some much-needed shade in summer. One of our most frequently requested palm tree services is on the Bangalow palm. The Bangalow palm tree is a popular addition to many a Brisbane garden. It grows up to 25 metres high and is several metres wide. The trunk of the palm tree is wider at the base and the palm tree leaves are large. The leaves provide shade and protection against the harsh Queensland sun.
And the Bangalow palm is quick to grow! This makes it a great choice for those impatient gardeners planting a new garden. It's also a low maintenance tree as it sheds its dead leaves. And this means there's no need to prune! However, it does have very large and heavy palm fronds that may be at risk of blowing loose in Brisbane's notorious storm season. To avoid any potential damage, it's important to prune the Bangalow palm fronds, so we offer this palm tree services Brisbane.
Palms Need Maintenance
Another popular palm for many Brisbane residents is the Cocos palm. The Cocos palm is tough! They can withstand the many Queensland droughts, frost (if they ever occur) and can thrive in shallow soil.
The Cocos palm grows to an average of 12 metres high and are popular hangouts for fruit bats because of their pods of yellow, nut-like fruits. However, these pods of nuts are messy, they drop everywhere and germinate wherever they land! They also pose a slippery threat to anyone who treads on one and look out if you happen to mow over them!
So, trimming these nut pods are another of our palm tree services offered by Brisbane mulching and tree lopping. Our professional arborist will climb that pesky Cocos palm and remove those pods, well before the bats arrive or they fall.
Palm Tree Services Brisbane
Another favourite in Brisbane is the Foxtail palm tree. Again, the Foxtail palm is almost drought resistant, although it does require regular watering to flourish. The Foxtail palm is fully grown is just one or two years.
The maintenance for a foxtail palm is relatively easy as the palms are self-cleaning. This means the dead leaves will fall and the leaves will regenerate. The foxtail palm trees like mulch as mulch helps to keep the ground moist and protects the trunk from damage when performing yard work. And mulch helps to keep the weeds away and retain the nutrients in the soil.
And if you need mulch, Brisbane mulching and tree lopping will mulch your green waste and leave the mulch for you to use in the garden!
Fun Facts About Palm Trees!
There are about 2600 species of palm trees.
The smallest palm in the world is the Dypsis Minuta. It is a tiny species common to Madagascar and rarely grows over 30 centimetres high.
Watering your palm trees is a necessity but did you know that hosing the palm trees leaves helps to get rid of dust and insects? Because palm trees have hidden bugs in them such as mealybugs, mites and scale. So, a good wash with the garden hose will keep your palm healthy!
The lifespan of a palm tree is up to 100 years!
Palm trees have significant economic importance, including coconut products, raffia, dates, oils, ivory nuts  palm syrup, carnauba wax, rattan cane and palm wood.
And some palm trees are toxic! The Sago palm tree is poisonous keep your kids and your pets well clear of this palm tree.
Palm tree services Brisbane is a huge part of our business. The removal and trimming of palm fronds are what keeps us busy, particularly in Summer. And palm tree trimming and maintenance is one of our most common requests. Our professional tree climber will climb your palm tree, tidy-up those fronds, remove those nut pods and have your palm look great in no time.
If the palms on your property need trimming, book Brisbane tree lopping and mulching service. We are experienced in all palm tree services Brisbane.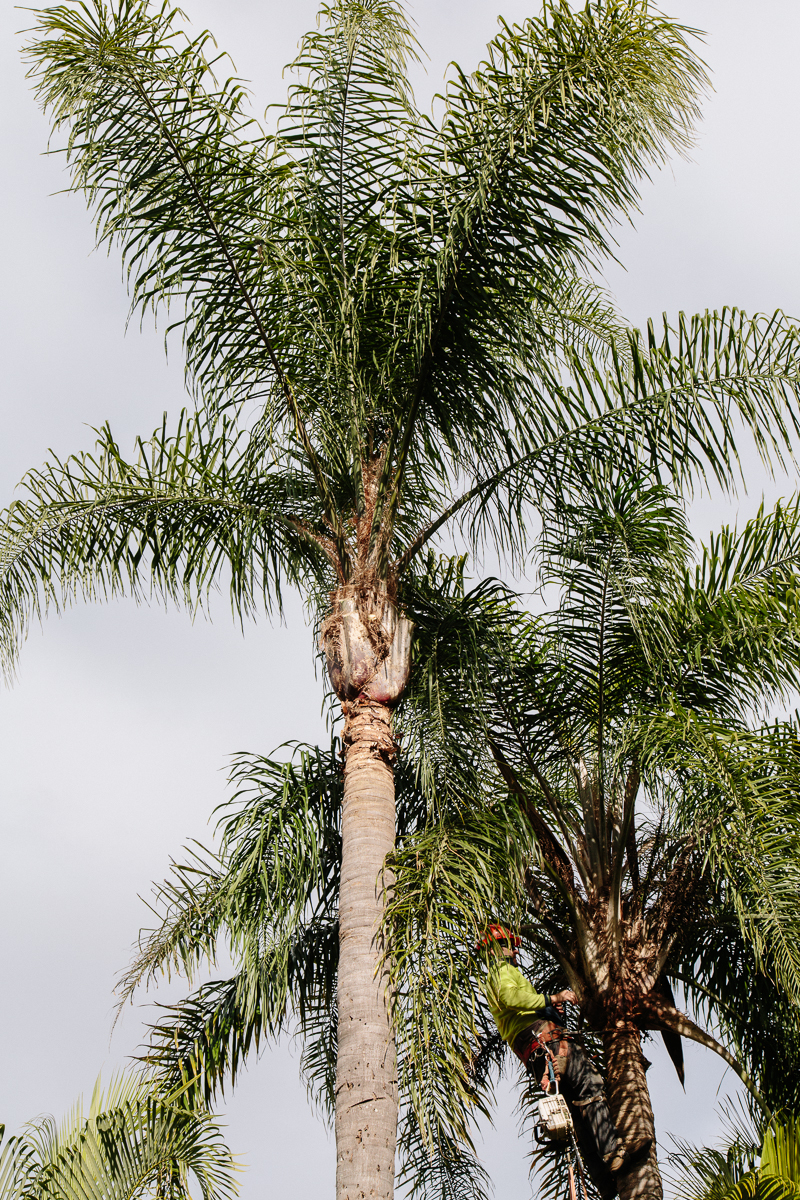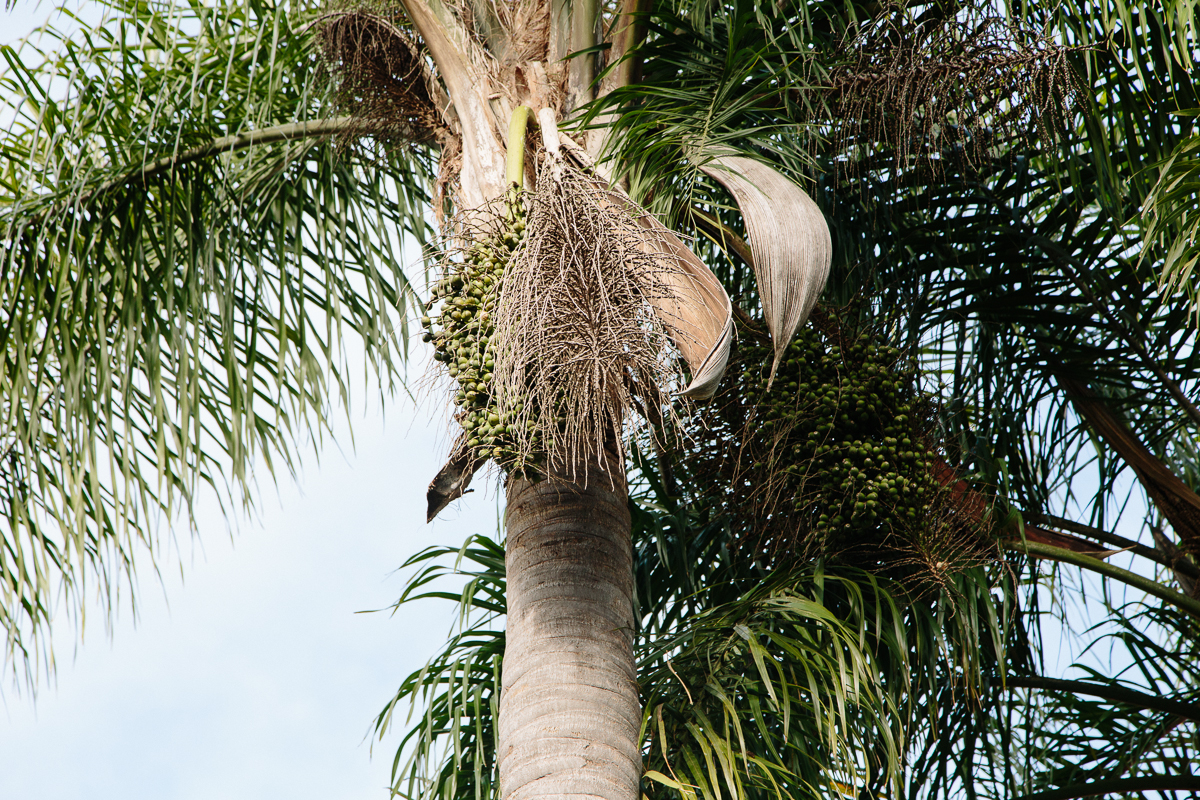 Book Your Palm Tree Services Brisbane
Brisbane Mulching and Palm Tree Services Brisbane specialises in mulching, tree lopping, palm tree trimming and removal. We pride ourselves on providing a prompt, professional and reliable service at an affordable hourly rate. No job is too small for our team. We can do small jobs like removing those overhanging branches or clear your property of trees. Whatever the size job, we will look after you.
So, give John a call on 0407 174 560 or drop us an email here.
Categories: